Still 14 November 2013
The tree of my youth is dying today
As it stands by the side of the new Motorway
Its branches are bleached
Reaching up to the sky
Asking why
Asking why
Did they try to improve nature's wondrous ways
So that man's not subjected to traffic delays
Pollution must follow, the benefit's nil
And the traffic increased
So the world's standing still

The house of my youth is a ruin today
For it stood in the path of the new Motorway
Its window panes shattered
Gaze up at the sky
And they cry
And they cry
Why did they destroy a peaceful terrain
Where a man and a woman could build their domain
Macadam and tar on the far distant hill
But the traffic increased
And the world's standing still

The town of my youth is silent today
As it waits at the end of the new Motorway
The stores filled with goods
The vendors all cry
Who will buy?
Who will buy?
Man invented the wheel but he never could learn
When used unwisely is ceases to turn
For all of his progress and all of his skill
The traffic increased
And the world's standing still
Tommy Tune - the animation!!! 19 January 2013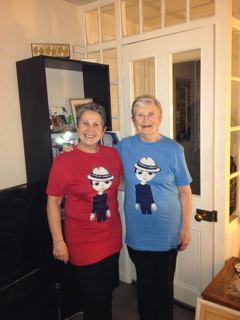 When my children were little, I wrote them a song about a tune who longed to be heard. Now that tune has been turned into an animation!

My grateful thanks again to Nicki Johnson for her wonderful work. I particularly love the orchestra in the sky - and the story unfolds just as I imagined.

You can watch the animation on youtube - or link to it from my music page.

Meanwhile - here's a photo of me and my eldest daughter: we've seen the film; now we've got the T-shirt!
Make No Waves 3 December 2012

The Brunswick Rogues are going to be singing "Make No Waves" this weekend at a benefit concert to raise money for Community Music Victoria.

This is the first song of mine ever to have been performed by a choir! Funnily enough, I started working on a choir arrangement soon after I first wrote it in the 70s. Now - at last - it's time has come!!

Huge thanks to Nicki and her rogues. I hope the day is a wonderful success. I do wish I could be there to sing along.
Well I finally made it to 90!! 10 July 2012
Most mornings I feel 90, however, not for long, my ninetieth year has been really great thanks to my two wonderful daughters, my caring husband, thoughtful grandchildren and many kind people I'm delighted to call my friends.

So many exciting things have happened since I entered the Oldies Composer's Competition, I have always been interested in Barnardo's because when I was a child I knew a lady who worked there, I believe as a pharmacist, she was always very kind to me and I have never forgotten her or Barnardo's. What's more I live in very close proximity to their headquarters. It just seemed as though I was meant to be connected in some way when I heard about the competition. The fact that I didn't get to the final four makes no difference, the whole experience has brought me a lot of happiness and I do hope it has worked out well for the charity. Then there might be a chance for another 'go' next year!!!!!

I'm working on an arrangement of one of my songs 'Make No Waves' for a choir in Australia, and I've learned to use a fascinating piece of software, 'Musiscore', so I can write out and listen to the various harmonies. It takes me a while to get going, but I think I have a fair idea how to use it now. I would like to write some new numbers and who knows I might come up with something original with a modern 'feel'. Obviously I'm an extremely late developer!

One of the TOGS! 21 June 2012
Thanks to Lizzie Dearden for the smashing write-up today in the Ilford Recorder. She's right - I'm one of Terry's Old Geezers now!
With Anthony Head and Aled Jones at the BBC club 11 June 2012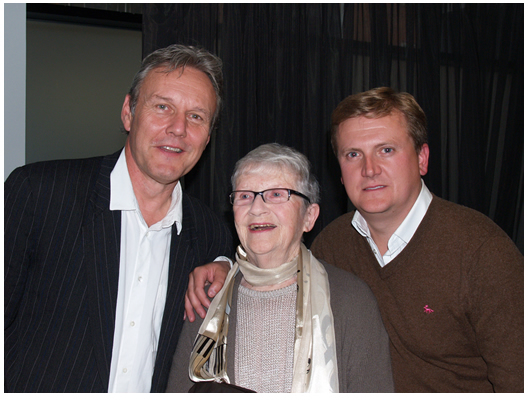 Me and Terry! 11 June 2012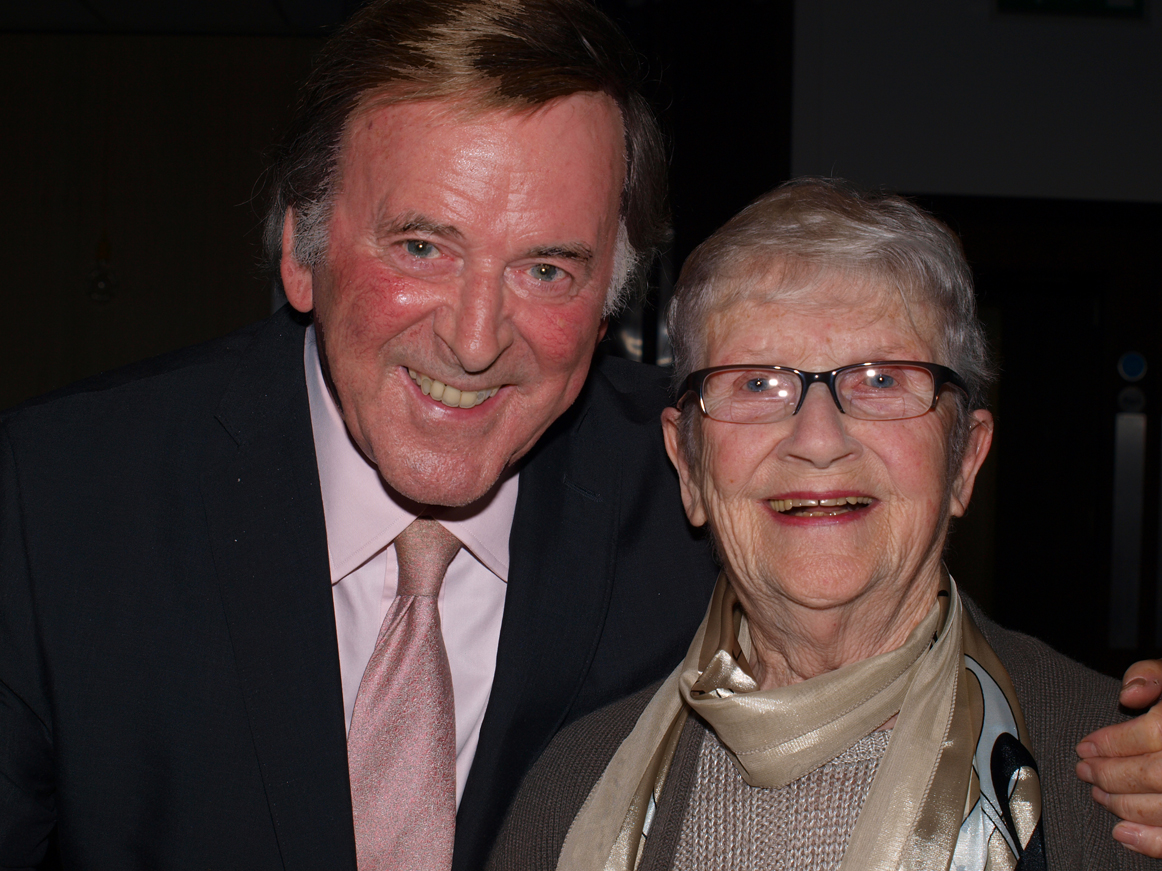 Oldie Composers' Launch Party 11 June 2012
So happy to have been invited to the Oldie Composers' Launch today at the BBC club. Four wonderful songs composed and performed by some wonderful people.

Seems incredible - but I think it's the first time I've ever heard a group play live! It was "FTW" - winners of Dr Barnardo's Young Composers' Songwriting Competition. So exciting to listen to - I'm a complete groupie!
The Brunswick Rogues May 2012
An Australian choir - The Brunswick Rogues - is interested in singing Make No Waves! They need it transformed into a four-part harmony to sing a capella. Funnily enough, I started trying to write parts for it once before. Better see if I can find my old scribbles!
Oldie Composers' Songwriting Competition 1 January 2012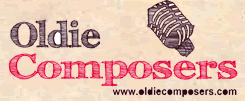 Anyone over 40 was invited to submit a song with the winner earning a professional recording at a London studio plus £500 cash.

In four judging rounds: first industry experts whittled entries down to a shortlist of 50. Then those 50 were made available on the oldie composers' website for a public vote.

The top 21, as decided by voters, went forward to a panel of celebrity judges who chose four to be professionally recorded and made available for download.

My entry was House of Tears.